A hybrid seminar online via Zoom or at the Migration Institute of Finland (Hämeenkatu 13, Turku)
The Migration Institute of Finland organizes research seminars open to the public, where researchers conducting migration and related research lecture on their research topics. A participation link to the Zoom seminar will be emailed during the same day.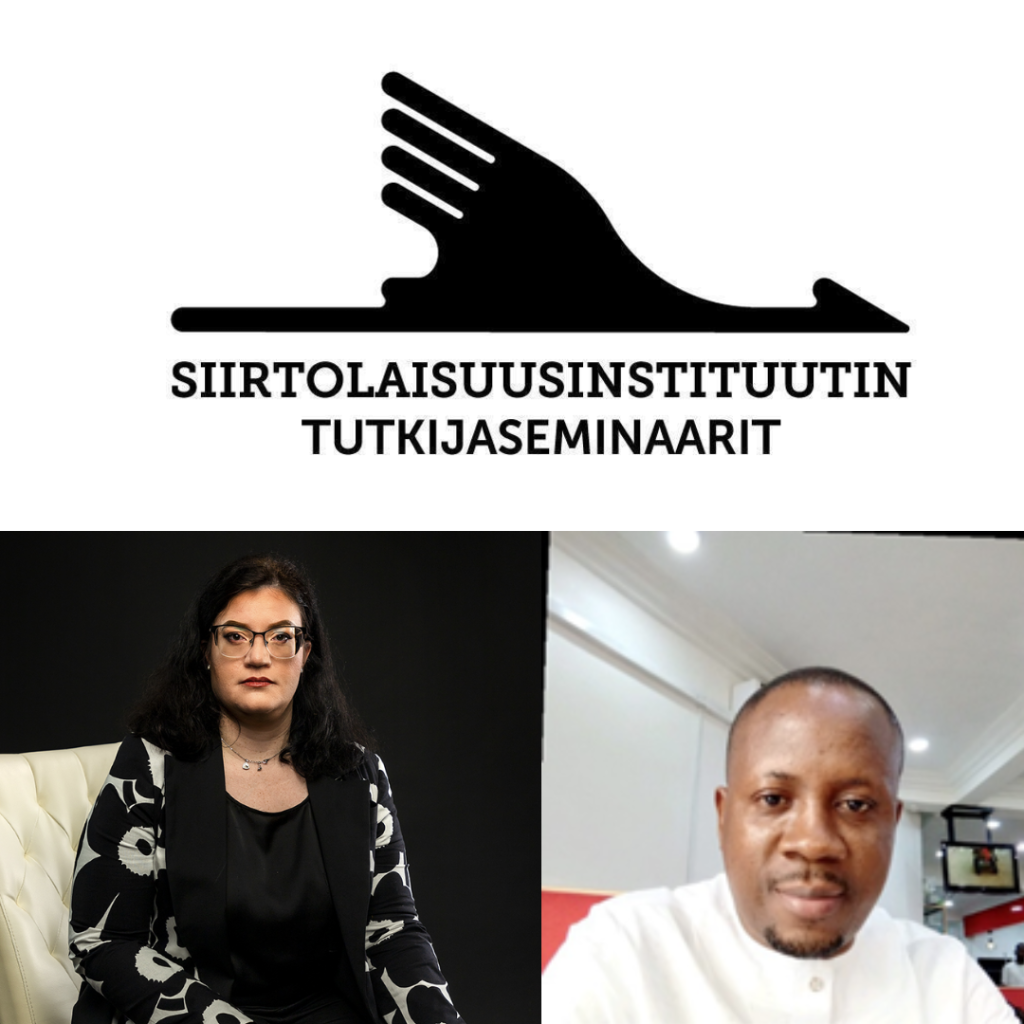 Program:
Doctoral researcher Onerva Flóra Várkonyi: Migration and Othering in Pajtim Statovci's Novels My Cat Yugoslavia and Crossing and in Riikka Pulkkinen's Novel The Book of Strangers
Onerva Flóra Várkonyi is a Doctoral Researcher at Tampere University in Finnish Literature. Her thesis examines some thematically understood migration novels published in the 2010s, focusing on representations of racism and othering due to queerness and gender. As theoretical frameworks, she applies theory of racism, postcolonial theory, study of stereotypes, study of emotions, study of cultural identity, the concepts of "race", racialization and ethnicity, queer theory, gender studies, character studies and narrative theory.
Dr Chimaobi Onwukwe: "I learnt English in the streets but not Finnish": Finnish language learning and integration strategies of Nigerian immigrants in Finland
Dr Chimaobi Onwukwe is visiting the Migration Institute of Finland. He is an Assistant Professor in linguistics at the Abia State University, Uturu, Nigeria. He has been working on sociolinguistics of migration for over five years in Nigeria and recently in South Africa. His research in South Africa focused on language use practices of Nigerian migrants and how this relates to identity navigation against the backdrop of xenophobia. The research also explored language learning experiences of Nigerian migrants (involving South African local languages like isiXhosa and isiZulu). He is exploring funding options in Finland, and proposes to draw on his project in South Africa to also examine Nigerian migrants' Finnish language learning and integration strategies. It sheds light on their learning and integration experiences, and how they navigate the learning landscape, looking at both formal and informal contexts of learning.
Registration:
Please register here by September 25

A participation link to the Zoom seminar will be emailed during the same day.
For more information: linda.backman(a)migrationinstitute.fi
Etusivu
Siirtolaisuusinstituutti on ainoa sekä muuttoliikkeiden tutkimukseen että dokumentoimiseen erikoistunut laitos Suomessa. Erityinen tehtävämme koskee ulkomailla asuvien suomalaisten elämän…
Lue lisää
Tapahtumat
Siirtolaisuusinstituutin tapahtumat on koottu tälle sivulle. Uutiset löytyvät omalta sivultaan.
Lue lisää